We provide education and acts of kindness to help people go to heaven.
You can obtain books, DVDs, and other products to help support our work to teach peace by clicking on DONATE/SHOP on this web page. Members have electronic access to all the books and DVDs.
Click here for the book explaining the founding of of our non-profit organization.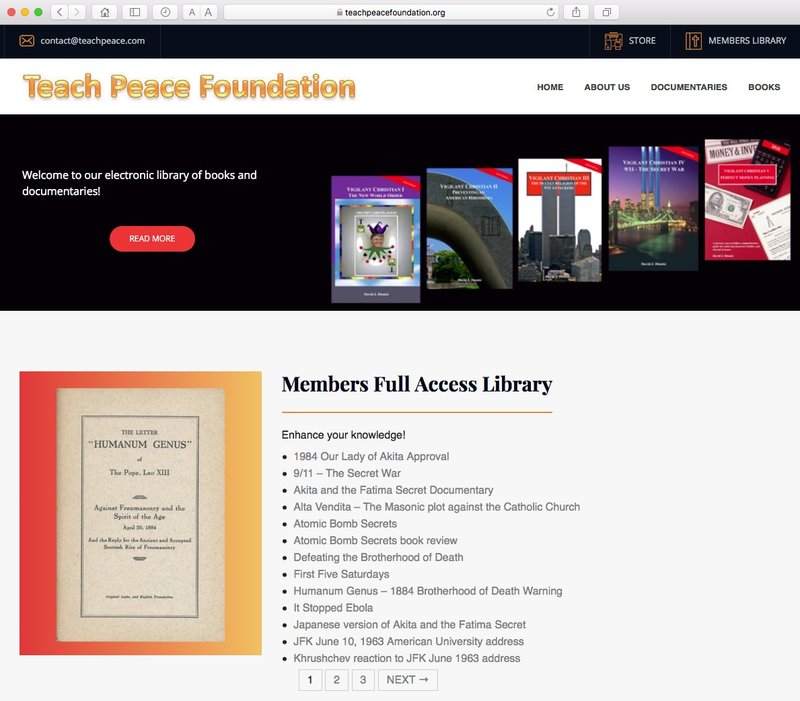 What - Teach Peace education is designed to help you see the truth to deepen your faith and understanding of God.
Blessed are the peacemakers: for they shall be called the children of God (Matthew 5:9). A key message of the Teach Peace Foundation is that we should treat everyone, especially those who disagree with us, as loved members of our family.
Where to start - Please read Defeating the Brotherhood of Death and become a member. The Defeating the Brotherhood of Death book will help you learn about the Fatima 21st century peace solution.
Why - The blind are often leading the blind (Matthew 15:14). We want people to better understand our world, safeguard children, and live eternally with God.
How - We teach peace by raising awareness for the Fatima peace solution so that people follow Christ. Our work is innovative in that it exposes different dimensions of how evil is organized and defeated. Each hair-raising assertion is backed up with a thorough documentation of sources.
Who - We seek to help everyone with soul saving education.
Click here to become a member and receive access to all the Teach Peace Foundation books and movies.
May the peace of our Lord be with you!
Teach Peace Foundation
539 J Street
Davis, CA 95616