Atomic Bomb Secrets English Edition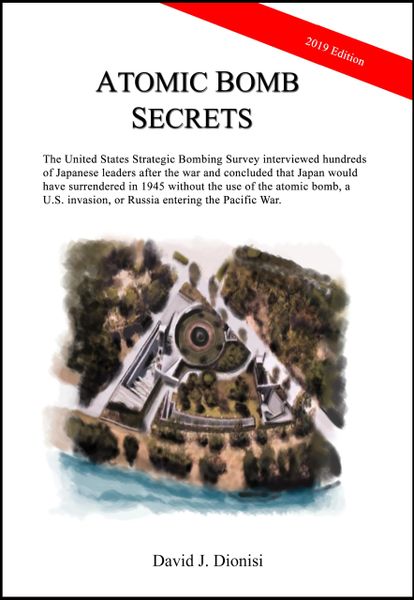 Atomic Bomb Secrets English Edition
Members of the Teach Peace Foundation have access to this book and much more. Please click here to access the electronic library.
Atomic Bomb Secrets is the product of over a decade of first-hand research and explains for the first time why atomic bombs were used in 1945. 

This book, the first published in Japan exposing the Japanese atomic bomb program, is also available in Japanese at the Hiroshima Atomic Bomb Museum (visit the Peace Hall Memorial Building which is making both the English and Japanese editions of this book available in perpetuity).
Regarding the historical record, this 305 page book is carefully documented with over 600 endnotes. The new evidence presented, often classified Top Secret for decades, exposes the official narrative as a horrific deception.
Japanese International Political Scholar, Kahoru Olibe, wrote: "By presenting many source materials that have been long overlooked by serious scholars and journalists, Dionisi probes into the deep structure of our contemporary human society in its historical perspective and illuminates the core aspect of its international relations, so that we might be able to know how to cope with the coming life-or-death crisis of all humanity. Indeed, this book is an eye-opener to the public."
Urakami Catholic Church member Shigemi Fukahori learned the real reason his family was killed after reading Atomic Bomb Secrets. He wrote: "As a survivor from the hell of an atomic-bomb attack, I wish this book to be read by as many people as possible."
Historian and Director of the Twenty-six Martyrs Museum Rev. Renzo DeLuca, SJ, wrote: "Atomic Bomb Secrets clarifies many facts that we need to know in order to make a healthy and courageous judgment about history and mankind."
This history-changing book is offered with the hope that revealing the truth will help prevent nuclear weapons from being used again.
The documentary The Secret of Nagasaki, available in this online store, is based on this book.